In the recent month or so, Bitcoin and crypto prices seem to be decoupling from stock markets. It's a promising sign that the correlation that seemed to last forever, might be breaking. It's too early to decry victory yet, but still. After all, why would you hold crypto in your portfolio, if it moves with other assets?
In Bitcoin's early days, it didn't care a single satoshi about the prices of stocks, gold, bonds or whatever. It just moved wherever it wanted to. But as the market grew bigger, and Bitcoin became a part of both hedge funds' portfolios and your moms and pops' savings, it started drifting along with ebbs and flows of liquidity in the global financial system. In 2016, the first data popped up that showed a correlation between gold and Bitcoin.
And indeed, why would BTC not be correlated? It doesn't live in a vacuum. For example, in 2022 inflation has spiked and has put pressure on everyone's spending power. To get your hands on dollars or euros, you need to sell some of your assets. In those situations, all asset prices move down in tandem: it's basically the dollar versus the rest.
No hedge against inflation...
That's why the correlation between crypto and stocks/bonds has been so strong in the recent year. No matter how much people would like Bitcoin to be a hedge against inflation, it hasn't been. (There's nuance here: Bitcoin could still protect against monetary debasement - money printing - but that's not the same as protection against rising prices driven by supply chain issues. If oil prices go up because of let's say an oil tanker is stuck in the Suez Canal, Bitcoin won't protect you against the rising prices.)
... but hopefully soon a (sort of) uncorrelated asset
Bitcoin's 30-day correlation with the Nasdaq (tech stocks) is now below 0.4, its lowest level since January 2022. As you can see on the graph, BTC moved in lockstep with the Nasdaq (and the S&P500) for months in spring: the time of market panic.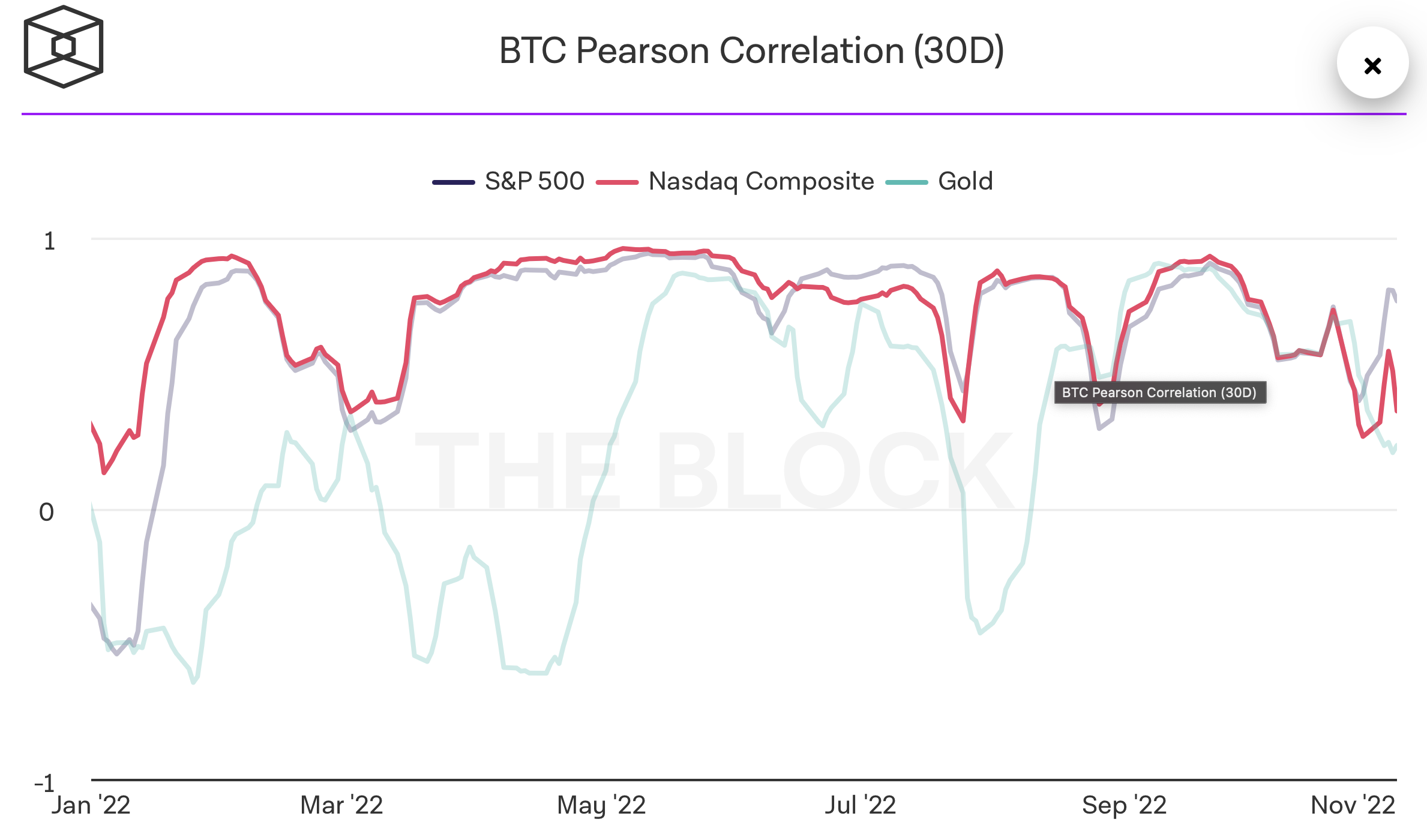 What appears to be happening in crypto is that there simply are too few speculative traders left that can sell. The hodlers are dug in their trenches. BTC balances on exchanges have been dropping. According to Glassnode, October was a month where Bitcoin holders became net stackers again.
This doesn't mean that price can't drop anymore. But at the very least it feels like Bitcoin has its life back again!