As of November 16th, users of the Brave browser have an integrated wallet. With it, Brave offers an alternative to the popular Metamask wallet, which works as a browser plugin.
With wallets such as Metamask and now the Brave wallet, users can self-custody their crypto. With a browser wallet, they can connect to decentralized exchanges ('dexes'), of which Uniswap is the most well-known. This makes it possible to trade crypto through your browser. Browser wallets can also be linked to a hardware wallet such as Trezor or Ledger.
With the integration of their own wallet, Brave wallet suddenly has potentially more users than Metamask. Metamask now has over 10 million users. The Brave browser has over 40 million users on a monthly basis (see chart).
Basic Attention Token
The Brave browser ecosystem has its own currency: Basic Attention Token (BAT). This token is used, for example, to pay out ad revenue to viewers of the ads. Conversely, people who consume free content with Brave pay BAT to the creators of that content. Brave claims that user data is shielded from advertisers.
The Brave wallet supports all blockchains compatible with Ethereum, including Polygon and Avalanche. The source code of the Brave wallet is open source, distinguishing it from, for example, Solana's Phantom wallet. Integration with the Solana blockchain will follow in 2022.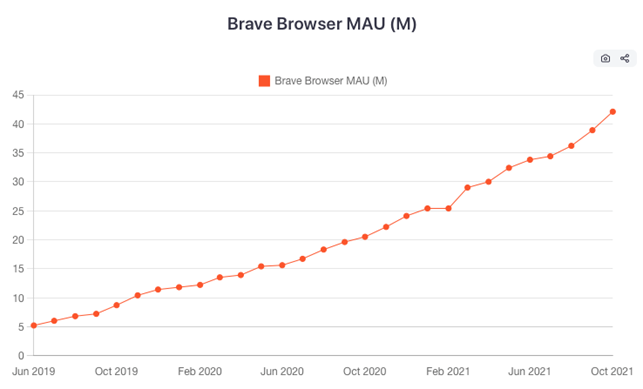 source: Bravebat.info