Solana has been pronounced dead by many analysts. This came a little bit early as we can clearly tell by the most recent turmoil an infamous meme coin has caused. Several dog-styled meme coins were highly successful in the 2021 bull market. So far, Solana was lacking behind that trend not having its own dog token. With the downfall of FTX, Solana has suffered in terms of price, but it appears that the Solana community is very much alive.
What is BONK and why is it so successful?
BONK Sam Bankman-Fried as much as you like
The BONK developers have designed the token to be distributed among the Solana community. With 50% airdropped to selected NFT collections, many collectors were surprised to find a new token in their wallets.
The use case for BONK is merely having fun as a community and to BONK Sam Bankman-Fried. In order to do so, users have to visit a website, connect their wallets and start hitting "SBF" with a baseball bat that is held by the infamous Shiba-Inu. For each hit users have to pay BONK. Of course, all of this pictured in a funny and non-serious manner that allows the Solana community to blow off some steam.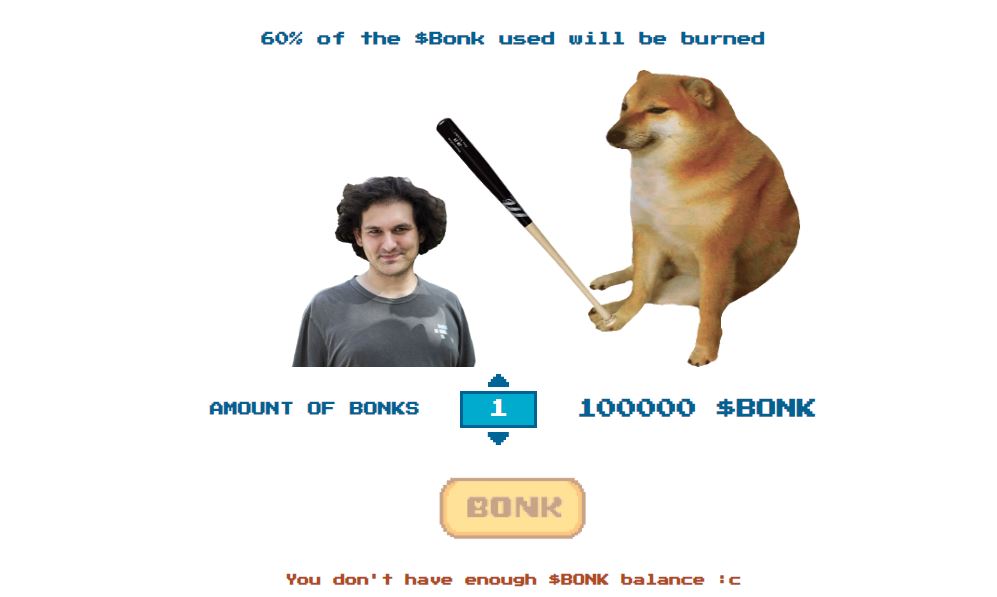 Solana took a hit since Alameda Research and FTX were both heavily involved in its ecosystem. While the common perception of Solana has changed, the community is still fighting to keep the ecosystem of the blockchain alive. The fact that BONK went viral not only created a lot of buzz in the media, but it also elevated the SOL price by more than 70% from last year's low.
Who is behind BONK?
This remains a secret and some even rumor Bankman-Fried to be behind this meme coin. While SBF awaits his trial in October his lawyers already claimed that he is not behind any transactions of Alameda wallets that occurred recently. It is not impossible but highly unlikely that SBF is sitting in his parents' basement creating and running BONK.
It is not so much important to pay attention to whom is behind BONK, but to understand that this is just another meme and not exactly a blue-chip investment. That being said, many users on social media are giving away BONK for free or for a like, a follow and a retweet. This reminds of the early days when Dogecoin started and only time will tell if BONK will walk a similar path or go down in history as another fad.