After a tumultuous weekend, in which the American government had to prevent a bank run on regional banks, markets have had some time to digest the developments, including some new economic data. What to expect - and why the recent pump?
After the depositors of the Silicon Valley Bank had to be bailed out by the American government, crypto investors were reminded of the infamous inscription in Bitcoin's genesis (first) block:
'Chancellor on brink of second bailout for banks'
This quote from The Times of January 3d 2009 was a reference to the core problem that Satoshi saw with the traditional financial system: its inherent instability. It relies on depositors' trust in an institution. This trust then gets betrayed - and the government has to step in, bailing out depositors with what is ultimately tax payer's money.
But amidst this turmoil, Bitcoin started pumping! It even, at the time of writing, as crossed the important 200 week moving average, the line that is considered to divide bull market from bear market territory. It remains to be seen if BTC can close the day and week decisively above.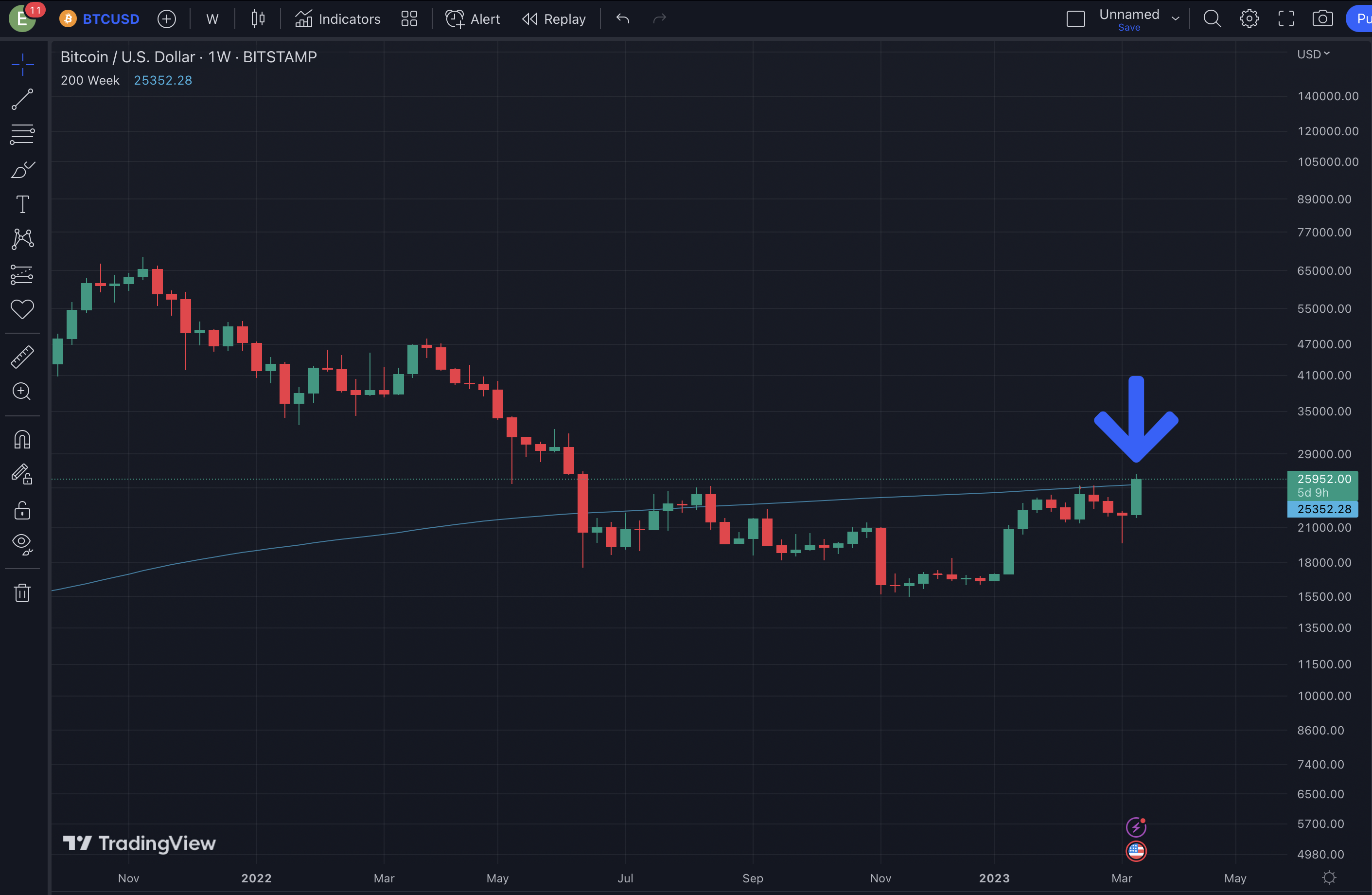 Crossing the line (blue): the 200 week moving average
Now is the right time for Bitcoin, the market seems to have thought. Among Bitcoin believers (count us in) an old battle cry can be heard again:
Long Bitcoin, short the banks!
Is it really that straightforward? People investing in Bitcoin because they see a bank being bailed out? Not really, at least: not just that. Granted, bank accounts being blocked across the weekend reminded people of the fact that banks are fallible institutions, whereas Bitcoin is grounded in math and code.
But there are other potential explanations for the price pump. One is that it is becoming clear that the Federal Reserve is nearing the point when it must switch to a looser monetary policy, with lower interest rates. The crash of the bank SVB is taken as a sign that a tight monetary policy is nearing its end.
A lose monetary policy favors 'risk assets' like stocks and crypto. Anticipating this move, investors started piling in. We will know a bit more after the next meeting of the Fed that will determine the interest rates will be on Tuesday and Wednesday March 21/22. Consensus used to lean towards a 0.5% interest rate hike, whereas now the analyst lean towards 0.25%.
Inflation data as expected
On Tuesday, the consumer price inflation number (CPI) was published. It showed a 6% year-over-year rise of inflation, exactly as expected. A higher-than-expected inflation would have been bad news, as the Fed would have felt forced to raise interest rates. A neutral number allowed markets to rally. Also, the S&P500 is up.