Since the fall of FTX, the number of times influential people have claimed Bitcoin or crypto will die, has gone up. But it is still remarkable that the number of these so-called 'Bitcoin obituaries' is in a downtrend. Are the sceptics less sure of their case?
Since 2010, website 99Bitcoins.com has been tracking the number of times that some influential person has claimed Bitcoin would go to zero. What counts as an obituary? According to 99 Bitcoins:
"The content itself (not just the headline) must be explicit about the fact that Bitcoin is or will be worthless (no "maybe" or "could"). + The content was produced by a person with a notable following or a site with substantial traffic. At the time being, we only accept obituaries in English."
Tracking these critical articles is a nice way to poke a bit of fun to critics, while reminding ourselves how long Bitcoin has not just survived but thrived. At the same time, the data can be used for serious purposes. It's an indicator that tracks sentiment, comparable to the Crypto Fear and Greed Index.
Downtrend in recent years
As can be seen from the list below, the number of obituaries peaked in the 2017 bull market and has been trending down ever since. It appears that critics are most vocal during either bull markets and crashes, and less so during flat markets. For example, in 2019 and 2020 there were fewer claims of Bitcoin going to zero than in the previous and subsequent bull/bear markets.
2022: 27
2021: 47
2020: 14
2019: 41
2018: 93
2017: 124
2016: 28
2015: 39
2014: 29
2013: 17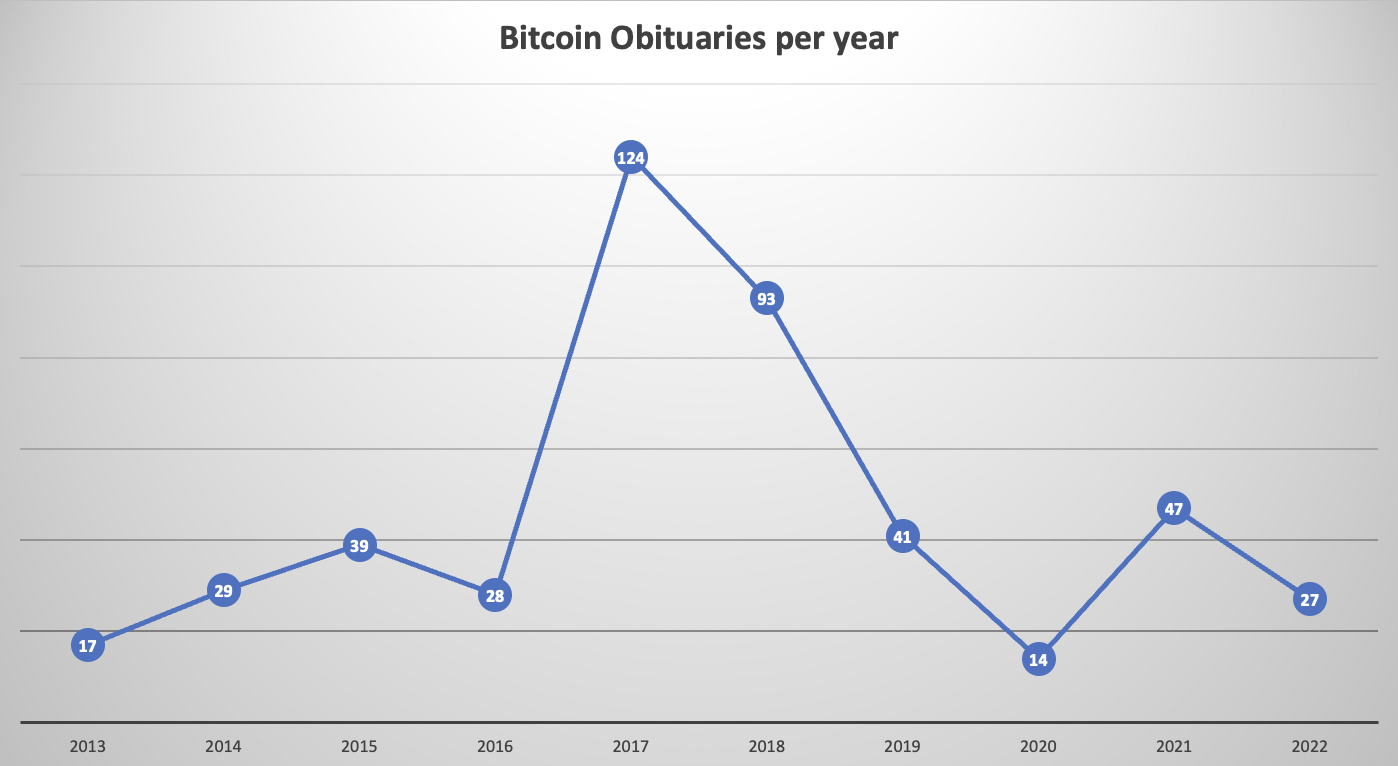 It is remarkable that the number of obituaries in 2022 hasn't reached the previous 2017/2018 highs. After all, 2022 was a disastrous year for crypto in terms of centralized companies and prices collapsing. Even though crypto the technology of course is doing just fine, perception in the media is horrible. Maybe it has become apparent to most critics that Bitcoin is probably here to stay.
Conclusion
If a technical analyst would look at the chart of Bitcoin Obituaries, he would say: a head and shoulders pattern is forming. If it breaks ... Bitcoin obituaries would fall of a cliff and... dare we say it... die out? No, that wouldn't be good. It's just too much fun to watch reputable institutions make a fool out of themselves declaring nonsense about Bitcoin.