Bitcoin dominance is the value of all Bitcoins added together divided by the total value of all other crypto coins. The dominance is around a critical level right now. A move up would make altcoins vulnerable, whereas a rejection down would make an altcoin season possible.
There are different metrics for this dominance, sometimes excluding stablecoins. For the purpose of this article, we take the one in which stablecoins are included.
Remarkably, the Bitcoin dominance hasn't dropped below the lows of 2018, even though stablecoins were on the rise and venture capital has plowed money into altcoin projects in the past years. Currently Bitcoin dominance sits at a crucial level of 49%. As mentioned, rejection or breakthrough will determine the fate of altcoins.
Why is this the case? The Bitcoin dominance tells investors something about the risk appetite of the crypto markets. In times where BTC dominance is on the rise, this signals that crypto investors 'flee into safety'. On the other hand, after a new bull market has gained steam, people start moving bitcoin gains in more speculative coins, and BTC dominance drops.
Resistance and support for Bitcoin dominance
At the time of writing, Bitcoin dominance is around 48.3%, having just been rejected from the 49% level (ETH pumped this morning, while BTC stayed rather flat).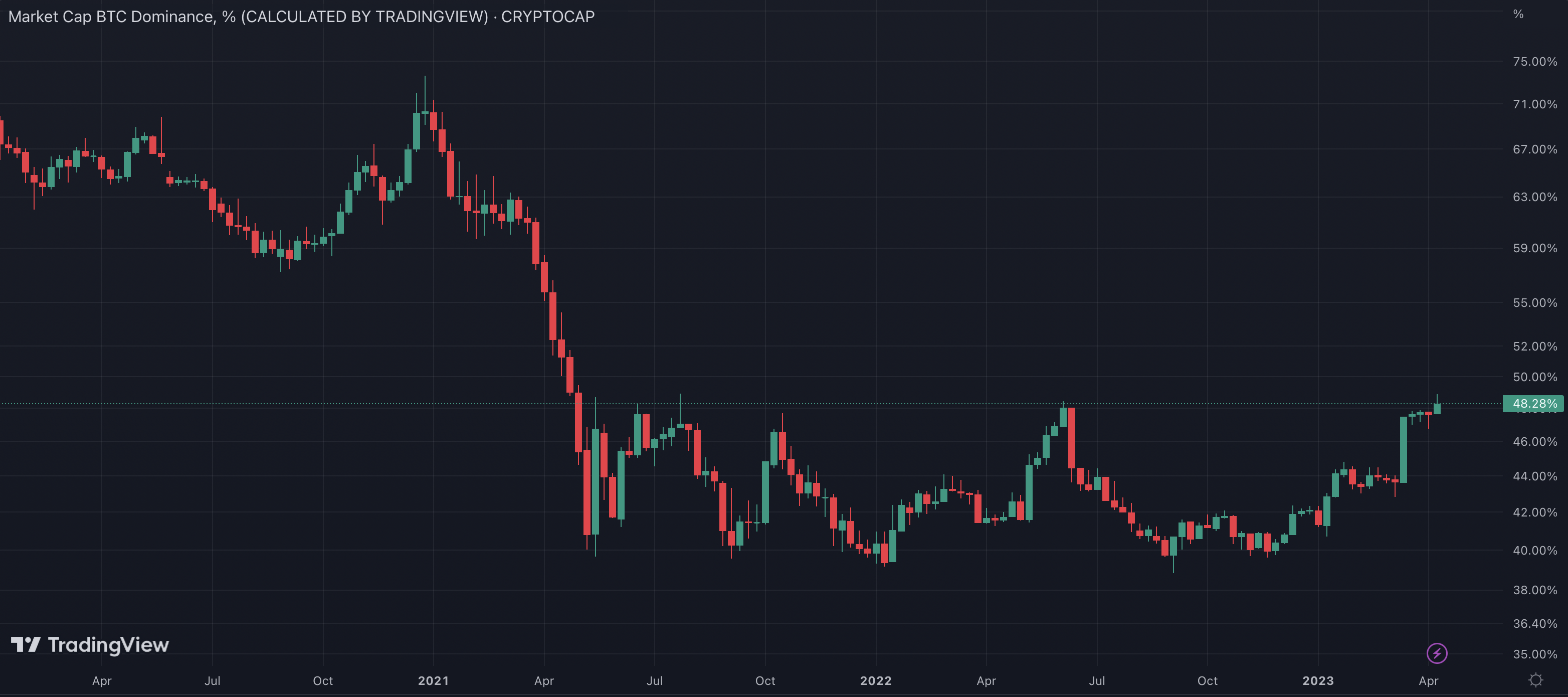 Similar to how we can perform technical analysis on an individual coin's price trends, we can also analyze bitcoin dominance. For instance, we can examine instances where dominance either breaches support or resistance levels and subsequently plummets or ascends, leading to a new market regime (bitcoin season or 'alt season').
In the chart above, it is evident that around the 49% dominance mark, there is a line that has served as resistance (from 2021 until now, on five occasions).
If Bitcoin dominance climbs above this line, this will place altcoins in a more vulnerable state: they will no longer possess price support in BTC terms. It's important to note that this doesn't necessarily imply that altcoins will lose value in dollar/euro terms! However, when measured in BTC, a rising dominance means your alts lose value measured in BTC.
On the other hand, should BTC dominance be firmly rejected from the 49% level, then we could see an 'altcoin season'. Exciting times!