Crypto exchange Binance decided to pause Bitcoin transactions twice in the past 24 hours. The reason: the large volume of pending transactions, approaching five hundred thousand. With such a long waiting line, transaction fees shoot up. The silver lining: Binance has announced it will make Bitcoin Lightning payments possible.
At the time of writing, the transaction fee that will get a BTC transaction from you own wallet past the queue is around 500 satoshis per vbyte, equalling roughly 15 euros. Half a year ago transaction costs were in the order of cents.
Of course, exchanges can pass on this fee to their customers. But Binance was slow to adjust their fixed, low withdrawal fee, and thus likely incurred a loss every time their users withdrew BTC. Binance has upped their standard fee to 28 euros and announced that older, stuck transactions will be replaced by transactions with a higher fee.
This is by the way an option that most wallets offer: Replace By Ree (RBF). Whenever a transaction from your own wallet is still not processed by miners after many hours, you can replace it with a identical transaction - except with a higher transaction fee attached. In that case, miners will know because of the RBF tag that they can discard the older of the two transactions.
Meme coin season is the cause
The reason for the congestion of the mempool (waiting line): it's meme coin season. The new token standard on Bitcoin BRC-20 is the newest reason for the spike in the number of transactions. Earlier this year, there was the new possibility to mint NFT's on Bitcoin with the Ordinals protocol. The new BRC20-standard has made it possible to create tokens that can directly be traded on Bitcoin. This has led to a flurry of meme coins created and traded on Bitcoin, pushing up demand for block space and thus fees.
Ethereum has faced a similar congestion in recent days, with meme coins such as Pepe and Turbo Toadseeing high transaction volumes and driving up fees on Ethereum.
More Lightning adoption?
Comparably high transaction fees and waiting lines have happened a few times before on Bitcoin, around bull market peaks. On the one hand, this gives people hope that, in time, a healthy fee market can be sustainable and replace the BTC block subsidy - much needed to keep miners funded and Bitcoin safe. On the other hand, it is shown time and again that Bitcoin needs second layers like Lightning to handle big transaction volumes.
'You can hate the plan, but you can't say the plan doesn't work', started a tweet by Eric Wall, one of the clique of rebellious Bitcoiners ('Taproot Wizards') who jumpstarted the Bitcoin Ordinals craze.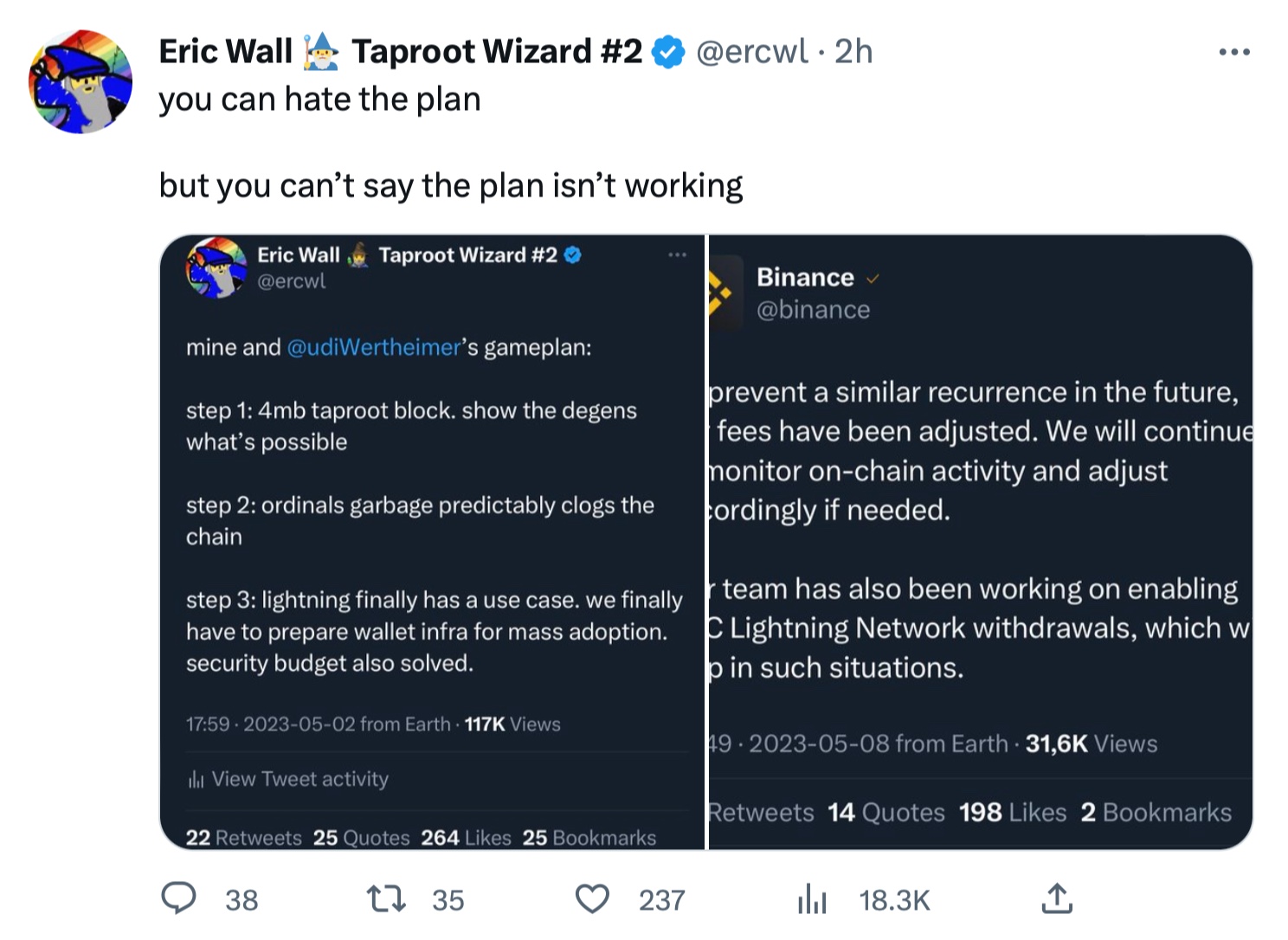 He refers to the fact that Binance has announced a Lightning integration following the current withdrawal halting debacle. Exchange Kraken already implemented this more than a year ago.