There are true believers out there who think that the world can be saved with and through Bitcoin. Some argue that they are completely out of their minds while others listen and try to figure out if this perspective reveals at least an ounce of truth. Sticking to the narrative that many Bitcoiners are following, the truth is that institutions like the ECB have become obsolete and do more harm than good.
Why is this mysterious collective shining a Bitcoin beacon on the ECB tower?
Who is Bitman?
A mysterious Twitter account called Bitman posted several pictures last night. They are showing the orange Bitcoin logo projected on the ECB tower in Frankfurt. According to the collective, they want to raise awareness for Bitcoin and that ECB is discrediting Bitcoin.
The ECB took the initiative in November 2022 right after the FTX crisis to warn against Bitcoin through a blog post. Now the institution reiterated its stance warning that Bitcoin is already doomed and that investors are well-advised to stay away from it.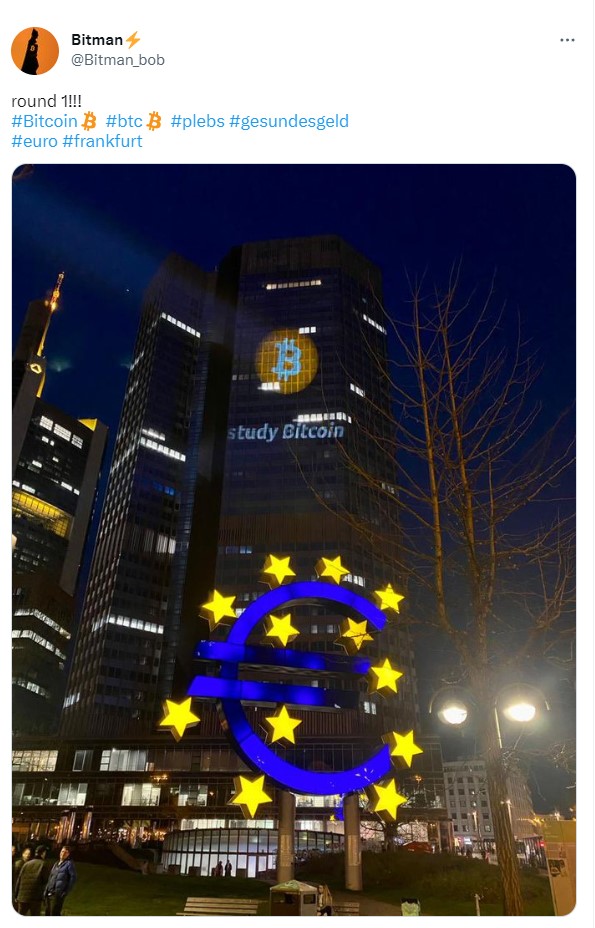 These statements are nothing new and last year a big crisis indeed unraveled for the whole crypto industry. Despite all the problems that the market had to face in 2022, Bitcoin prevailed and there was even a strong price recovery in the first quarter of 2023. Yes, this indicates that Bitcoin is still highly volatile, but it is also here to stay.
Banks are doing far worse
Silicon Valley Bank failed, Credit Suisse failed and so did Silvergate and Signature. Currently, the CDS for Deutsche Bank is going through the roof. This indicates that market participants believe that Deutsche Bank carries a risk far beyond the risks that it is willing to admit.
Of course, one could argue that at least the three US banks had close ties to crypto companies and that the risks they were taking contributed to their downfall. But this is not only framing crypto for something that banks are responsible for themselves. This stance also ignores the fact that other banks are struggling that have no connection to crypto markets at all.
One does not have to be a believer in Bitcoin, but Bitcoin can solve at least some of the problems banks have been running into lately. The Bitcoin beacon reminds us that this fact can no longer be ignored.
Featured image: © Uskarp / Shutterstock.com