The deal of Binance acquiring FTX, which was supposed to cost $1, is most likely off. Crypto markets weren't pleased. BTC dropped to 15.700 euro before recovering a bit during the night. The fact that millions of FTX depositors might not see their money back, is considered a blow that the crypto industry will take a while to recover from.
In a statement on Twitter, Binance clarified its reasons for not going through with the deal: 'In the beginning, our hope was to be able to support FTX's customers to provide liquidity, but the issues are beyond our control or ability to help.'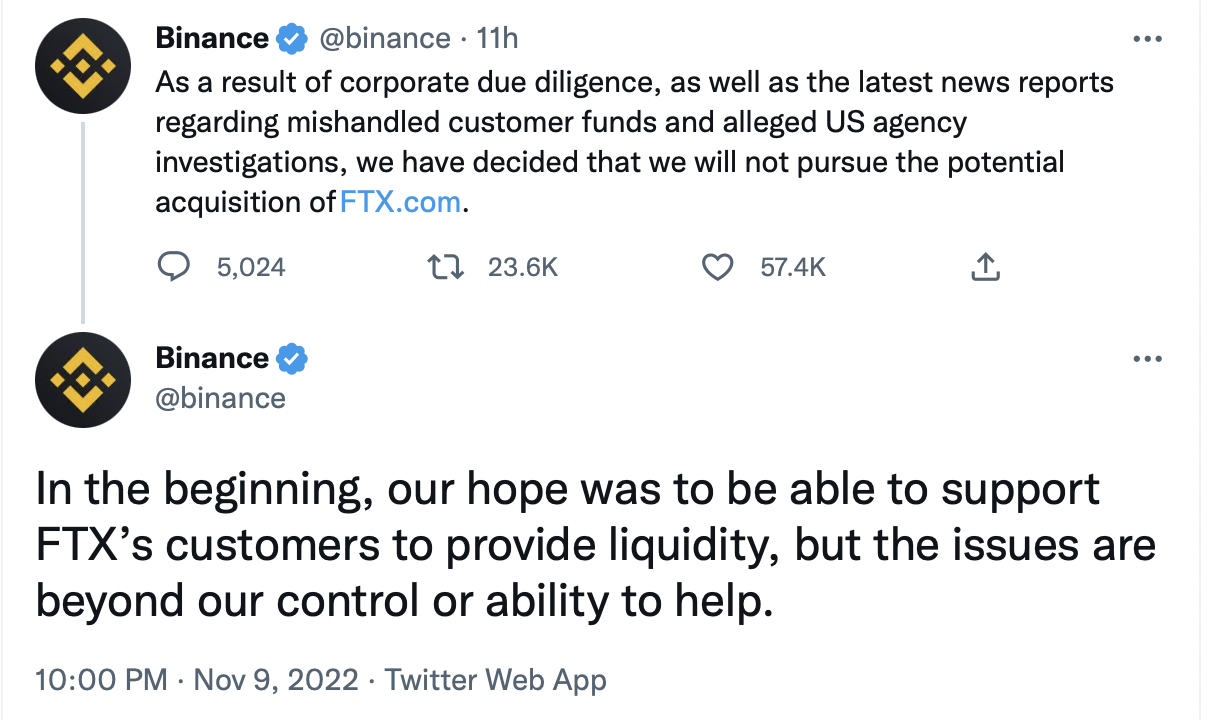 On the news, BTC dropped more than 10%, and most altcoins more. Especially Solana (SOL) got hit hard. Sam Bankman-Fried was an early investor and current supporter of this project.
Had the deal gone through, it would have combined the two largest centralized crypto exchanges in the industry. A monopoly outcome that most people were also not too keen on.
Possible fraud
Apparently, Binance didn't like what it saw after having a glance at the books of its (former) competitor, which experienced a bank-run and had to pause customer withdrawals. In the statement, Binance hints at fraud and upcoming litigation. In the meantime, on-chain analysts are trying to figure out how exactly this unfolded: what were the ties between trading firm Alameda research and FTX? One hypothesis is that Alameda went bankrupt after the LUNA collapse last May and FTX felt compelled to secretly bail out its sister company, setting in motion its own downfall.
So, whereas the acquisition sum of $1 may not sound a lot at first, the picture changes if you consider the billions of FTX debt involved. What would Binance get in return except for this pile of obligations? The employees, the infrastructure, the brand name. Apparently, in Binance's view, it isn't worth the trouble.
3D chess by CZ?
Many have speculated that Binance's CEO CZ played this situation brilliantly, carefully moving the pawns that would bring his competitor down. Sure enough, it was obvious from CZ's recent statements that he felt some animosity towards FTX / Sam Bankman-Fried (SBF). CZ wasn't the only one with a distaste for SBF's lobbying efforts in Washington to push certain kinds of regulations that would stifle decentralized finance - and Binance as well, possibly?
CZ publicly denied that he had the intention to bring down FTX. In an e-mail to his employees, which he also made public, he wrote: "We did not master plan this". And: "I was surprised he [SBF] wanted to talk." CZ goes on to stress that FTX going under is bad for the industry and in that sense not a win for Binance. CZ's claim of innocence is not entirely unlikely. CZ may not have had any idea what chain of events he'd set off by announcing to market-sell his FTT. Plus, he's not buying FTX after all. So what then was the master plan? Sure, one competitor less - but the crypto industry in shambles and undoubtedly a lot of new enemies, including in Washington.
Conclusion
According to crypto veterans, this is one of the hardest if not the hardest blow the industry has ever had to take. No one really saw it coming and that makes it so hard to process. It's another self-inflicted wound, a case of a rotten apple spoiling it for the good actors in the space. Regulators won't like it: they too were played for a fool by SBF, who in a hearing claimed to be transparent.
FTX depositors will possibly never see most of their money again unless another party than Binance wants to step in for the rescue. Onlookers wonder who though. No company in crypto other than Binance would be large enough. Maybe a traditional financial institution that sees an opportunity to step in crypto? For any party, it would be a risky business.
What to do as an investor? In one sense, it is of course a risky time to invest. On the other hand, Warren Buffett famously told us to buy 'when there is blood in the streets'. That's certainly the case now.
Please note this is a rapidly developing story, this post is from Nov 10. Not all information may be up to date.