The price of ApeCoin (APE) has pumped with more than 30% in 24 hours. There are rumors that a so-called 'land drop' is coming for owners of Bored Apes and Mutant Apes, among others.
That land drop - a variant of an airdrop - would apply to virtual land in the so-called Otherside metaverse game from Yuga Labs. That's the Web3 marketing company to whom we owe Bored Apes.
Otherside will reportedly be a multiplayer game in which players can roleplay with their avatar - for example, their Bored Ape NFT. According to rumors, Bored Apes owners will get the most sought-after land in that game, followed by the proud owners of Mutant Apes and CryptoPunks.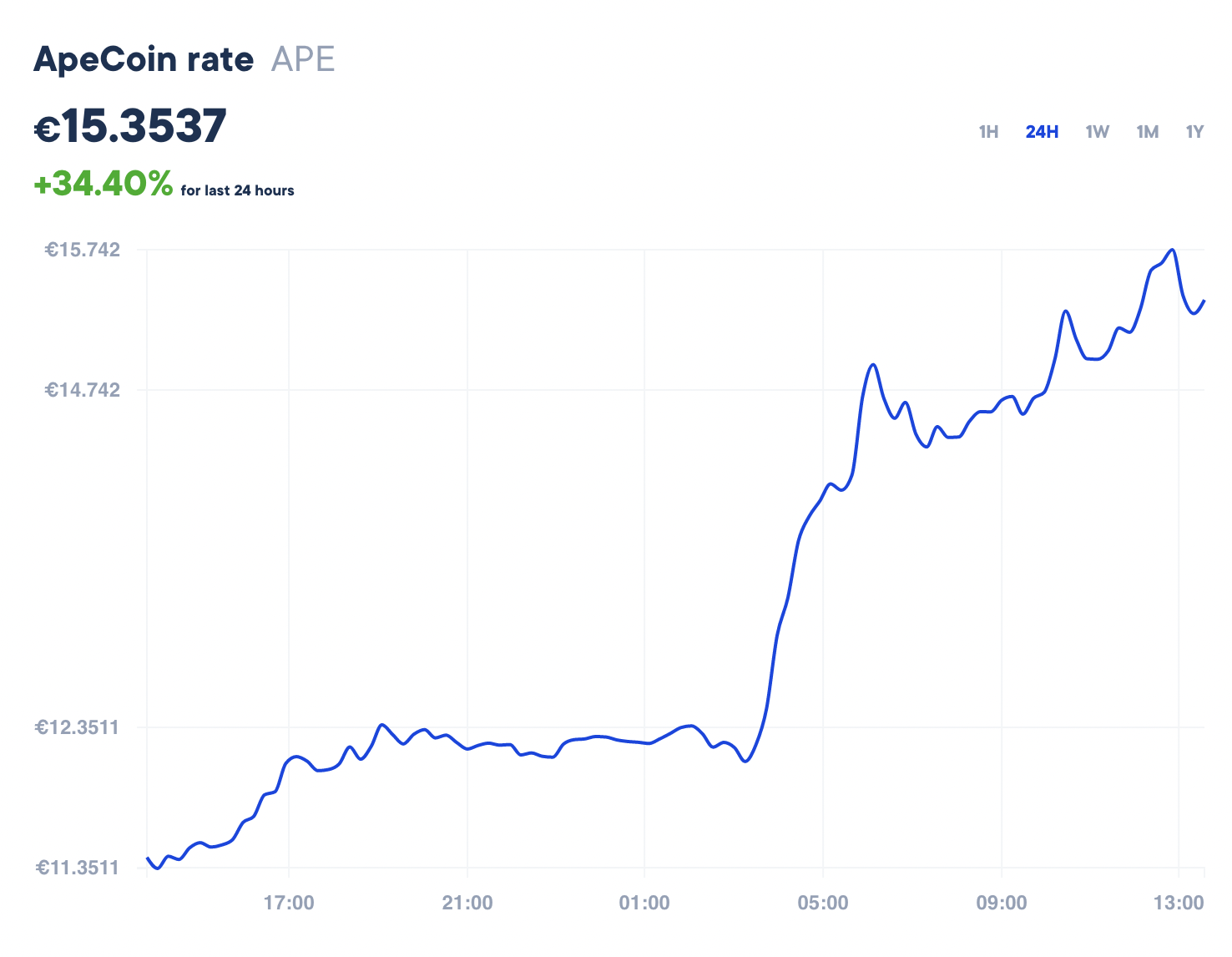 Why is the price rising?
The reason the price of ApeCoin (APE) is rising is probably because traders expect demand for APE to rise. APE is the currency in which governance and transactions are done in the Ape ecosystem. So the virtual land that will soon be traded will be settled in APE.
To avoid misunderstandings: APE is the currency (an ERC-20 token) of the Bored Ape Yacht Club (BAYC) ecosystem. That is the first ecosystem to have both its own NFTs (like the Bored Apes) and its own currency: ApeCoin.
A good investment
Famous names in Hollywood, such as Eminem, Snoop Dogg and Paris Hilton, are already proud owners of a Bored Ape. The investment in a Bored Ape has proven to be lucrative. The mint was in April 2021, when Apes were for sale for less than a tenth of an ETH. Since then, buyers have been treated not only to giga price increases of the Bored Apes themselves but also to the airdrop of thousands of ApeCoins. And now, on top of that - if the rumors are true - virtual land. The owners of CryptoPunks are also benefiting from these drops, since Yuga acquired the intellectual property from Larva Labs.