For the first time in the network's history the number of Bitcoin addresses holding more than 1 BTC has crossed 1 million. It shows that Bitcoin keeps getting more decentralized in its holder base, which is a good thing.
Quick caveat: the above 1 million number doesn't quite imply yet that there are also 1 million people holding at least one BTC. After all, a single person can have multiple addresses. So the number of people with > 1 BTC will be slightly lower than 1 million.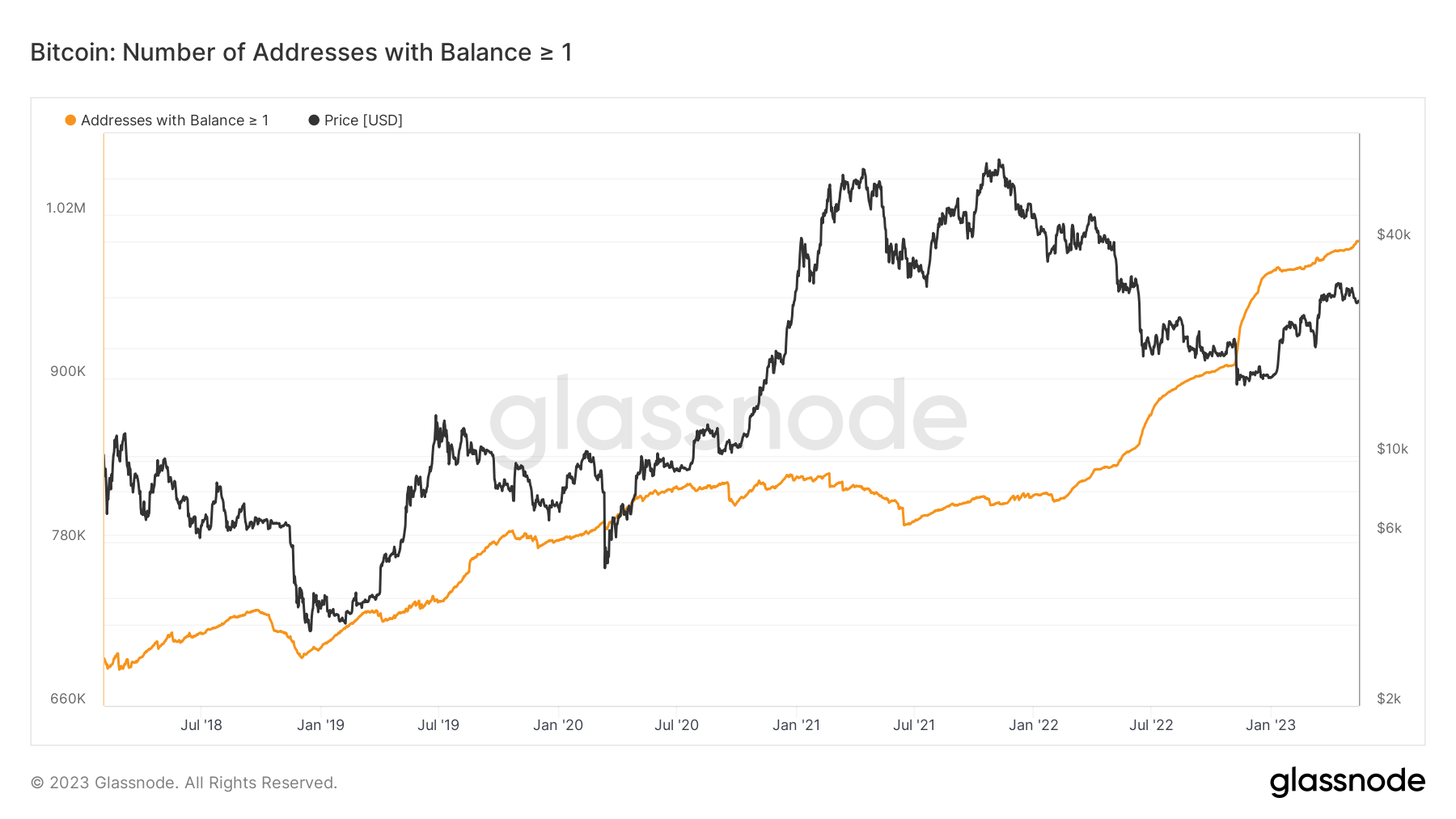 See the Glassnode chart above for the trend. A first thing to keep in mind that this trend is of course going up. After all, in 2009 there weren't even a million BTC in total and the number of users only a few dozen. As BTC gets issued, and as the number of users grow, the number of wholecoiners will grow.
Two interesting observations
But even though the trend is expected to go up, we notice interesting developments.
First, it's remarkable that the number of addresses holding at least 1 BTC started surging after the FTX collapse. We wrote about it at the time in November: Small holders are stacking BTC at record pace. At the time, the number of wholecoiners was around 950.000. It shows that relative to the institutional players, the small investors had more confidence in Bitcoin and kept accumulating. Part of the reason might be forced selling from some institutional investors. As a crypto exchange, whenever your depositors withdraw their coins, you are forced to sell.
Second, in the recent bear market of 2022, the number of 'wholecoiners' went up more than in the previous 2018 bear market. It stayed rather flat in 2018 but has exploded in the recent bear market. This suggests that, compared to 4 years ago, confidence from small investors that Bitcoin is here to stay has gone up.
A good development
Many people see this redistribution from big money to small money as a good thing. After all, what good would Bitcoin be if only a few large holders held it? A monetary network can only scale if many people own some of it.