On the surface, Nostr is much like a stripped-down version of Twitter. But just like Bitcoin works in fundamentally different ways from traditional money, under the hood Nostr works very different from conventional social media. In Nostr, YOU own your account. Also, Nostr lends itself to integration with wallet software and Bitcoin's Lightning network. Let's dive in and experiment.
Isn't it a great feature of the e-mail protocol (SMTP) that anyone can receive your mails, regardless of what e-mail program they use? The e-mail protocol can be used by anyone, it isn't a walled garden.
And wouldn't such a base layer protocol be convenient for social media? That is what Nostr is trying to achieve. It's an open protocol that anyone can use and build on. As it connects people on the base layer of the protocol, once you connect with someone, you relate to them regardless of the social platform (client) built on Nostr you use. You don't have to re-establish connections if you switch platforms. Again, Nostr exists on the deep layer of the protocol, not on the application layer.
Similarities with Bitcoin
Even though Nostr (Notes and Other Stuff Transmitted by Relays) shares some design characteristics with Bitcoin, it is a distinct protocol. It was first proposed by a developer who worked on Bitcoin. This developer, called Fiatjaf, wanted to build a protocol that is as close as possible to a censorship resistant Twitter. A protocol for a global social network that can't be censored.
To achieve this, Nostr doesn't rely on any central server, but instead on different relays, which makes it resilient. It is based on cryptographic keys and signatures, so it is tamperproof. If you generate an account, you get a private key, which will safeguard access to your account.
How to make a Nostr account - no e-mail address needed
Go (for example) to astral.ninja: have it generate a public and private key for you. No e-mail address or phone number required.

Your public key is like your username. Share it with others. Keep your private key... private.

Connect to a few relays, so that your posts and connections won't depend on a single database storage.

You can start posting: your message will get relayed to all the clients. They are immediately visible in the global channel.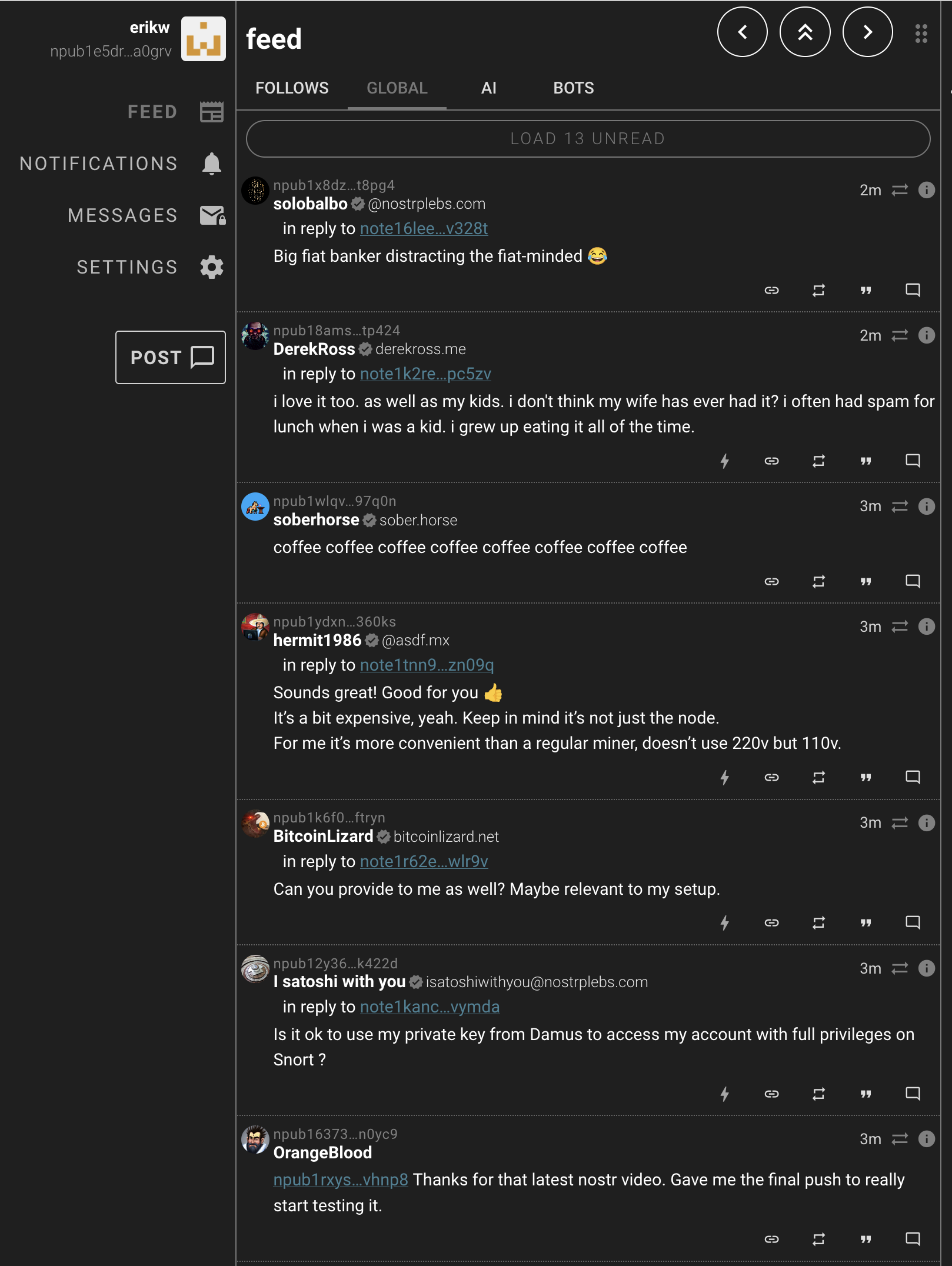 Example of the feed of a platform running on Nostr: Astral Ninja
It's a bit more tricky than setting up a Twitter account, but for Bitcoiners this shouldn't pose a problem. Here is a good explanation video by BTC Sessions, who adds steps to integrate a Lightning wallet to the above steps.
Nostr under the hood: the three critical components
As a crypto enthusiast, you will enjoy some benefits using this system. For example, your public key functions as your username.
Private keys

: You sign a message with your private key. Your private key safeguards your account, which includes all your contacts.

Relays

: Your message doesn't get sent to a central server, as it would with a conventional social network. Instead, it gets sent to different 'relays': the databases in the network. (meaning Nostr is decentralized, even though there is no blockchain.)

Clients

: these are different social networks that are built on Nostr. Each can be configured and designed in ways that give it different user experiences.
How does Nostr compare to Mastodon?
A few months before Nostr started gaining traction, a Twitter alternative called Mastodon generated attention. For users who care about a permissionless, censorship resistant system, there are some issues with Mastodon:
On Mastodon, your identity/username is controlled by who is running the server. The fact that Mastodon has more than one servers doesn't fundamentally make it different from Twitter. Why? Because these servers tend to act like dictatorships and boot people out. Subsequent migration between servers is tough and depends totally on the cooperation by the servers. Bottomline is you just don't own your account.
Conclusion
Although it is a fundamental innovation, it remains to be seen whether Nostr will become a protocol that manages to attract many developers and users. Overthrowing existing monopolies is never easy. But the fact that it is open source should not be underestimated. The future should show whether it becomes a kind of Linux among social media, or even more dominant. In any case, the network already has the support of a growing group of Bitcoiners, of which there are a few hundred million worldwide.