Mask Network is a browser extension that bridges Web2 (the internet as we know it) and Web3. In other words, it allows people to access Web3 within existing mainstream platforms such as Facebook. Mask's tagline is: your portal to the new, open internet.
View Mask (MASK) as a layer that adds privacy and functionality to your social media accounts and allows you to engage in crypto from your social media accounts. Mask connects Web2 giants such as Twitter, Facebook and Instagram to blockchains like Ethereum, BSC and Polygon.
How does Mask work?
After installing the browser extension in for example Chrome and setting up a Mask ID, you can connect your existing crypto wallet. Your crypto wallet then becomes integrated with the social accounts of your choice, for example Twitter. This makes crypto wallet transactions more user-friendly (see below).
Some key features of Mask
1 Encrypt messages for selected audiences
You can use the Mask extension to hide certain posts from prying eyes. This can be rather innocent (sharing a naughty joke with only friends) or more serious (posting content that the government might not like). Only people who have Mask installed can see encrypted content that you chose to share with them.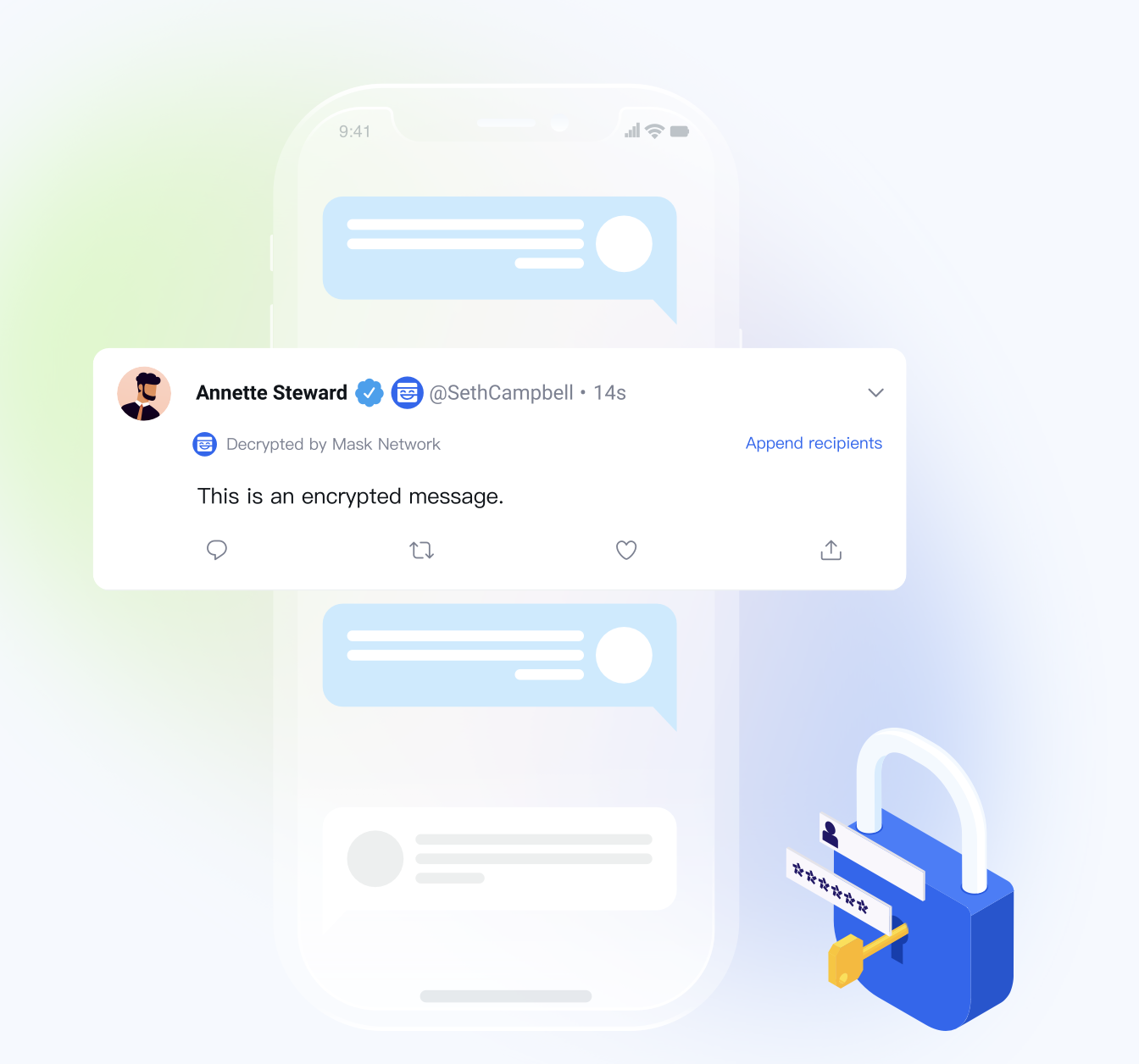 2 Send crypto through social channels
Provided your connection on for example Twitter has Mask installed, you can send them crypto. You can tip creators or you can send crypto between friends. It's a user-friendly way of sending crypto. Because, even though it works essentially the same as MetaMask transfers, it feels better to send someone money from a place where you see their profile picture and actually interact with them.
3 Buy crypto with fiat
Same principle as 2: you can buy crypto with your credit card while being logged in on your Instagram, Facebook or Twitter. It simply makes the threshold lower, as you don't have to open your exchange account when the fomo hits you.
4 Initial Twitter Offerings (ITO's)
This is crowdfunding crypto projects directly through Twitter, made possible by Mask. It lets anyone quickly piece together a crowdfunding project. Parameters you can set are for example the ratio between your token and ETH, and the maximum amount of ETH people can invest. On the other side of this, you can of course invest in other people's ITO's.
5 Built-in trading tools
Mask has integrations with applications such as Coingecko and Uniswap. While staying in your social app interface, you can look up token info and swap tokens.
The MASK token
The utility token of Mask Network is MASK. It also acts as a governance token for MaskDAO.
At the time of writing (December 2022) MASK is a top 150 crypto, with a market cap of around 200 million euros. Of the max supply of 100 million coins, 68 million are in circulation.
After trading started in early 2021, the coin suffered from the bear market. Only after the news of Elon Musk's Twitter takeover of October 2022, it pumped again. The price rose from its low of around 1 euro to more than 5 euros.
Conclusion
Web3 or Web 3.0 is a name for the future internet where users can once again be co-owners of their data. It is a reaction to Web 2: the internet where Big Tech has the reigns over user content. Many people in crypto don't doubt that Web3 will advance fast. One of the main questions is whether the privacy and ownership features will be implemented at the protocol level or at the application level.
In other words, will we in the future interact on social networks that have been built from the ground up with privacy in mind, like the decentralized social graph Lens is building? Or will we go the route Mask Network is taking, where web3 functionality is bridged from current Web2 applications?