Kimchi premium is the term to describe the price differences between cryptocurrency exchanges in South Korea and those in the global markets. The premium is sometimes smaller, or can even disappear, depending on market conditions. It is a signal of an overheated retail market, indicating that prices might be peaking.
In times when the markets get frothy, certain exchanges can't keep up with demand. In South Korea, crypto trading is very popular with the people. In the bull market of 2021, the country briefly traded more crypto than stocks. When every student and their mother-in-law is logging in on South Korean crypto exchanges like Upbit and Bithumb, these exchanges are scrambling to keep up with demand. Crypto prices soar.
But why is the Kimchi premium (Kimchi, by the way, is a Korean dish made of soaked vegetables), largely a South Korean phenomenon? This has to do with trading limitations unique to the country's exchanges and the existence of domestic capital controls. For example
There are high obstacles for South Korean citizens to buy crypto on foreign exchanges.
The country prohibits non-domestic traders from doing business on South Korean exchanges.
All this means that it's not easy to benefit from the Kimchi premium. Obviously, as otherwise it wouldn't exist.
Profiting from the Kimchi premium
Traders benefit from the price difference by selling their crypto on South Korean exchanges. This is called arbitrage trading. Sam Bankman-Fried, the former CEO of bankrupt exchange FTX, gained his early fortune by benefiting from this trading opportunity, among others.
History of the Kimchi premium
The Kimchi premium was first identified in early 2016. Between 2016 and 2018, the discrepancies due to kimchi premiums were the highest. At one point in January 2018, the difference in price per Bitcoin between South Korean and international exchanges was about 55%. On average, the kimchi premium is around 4.5%.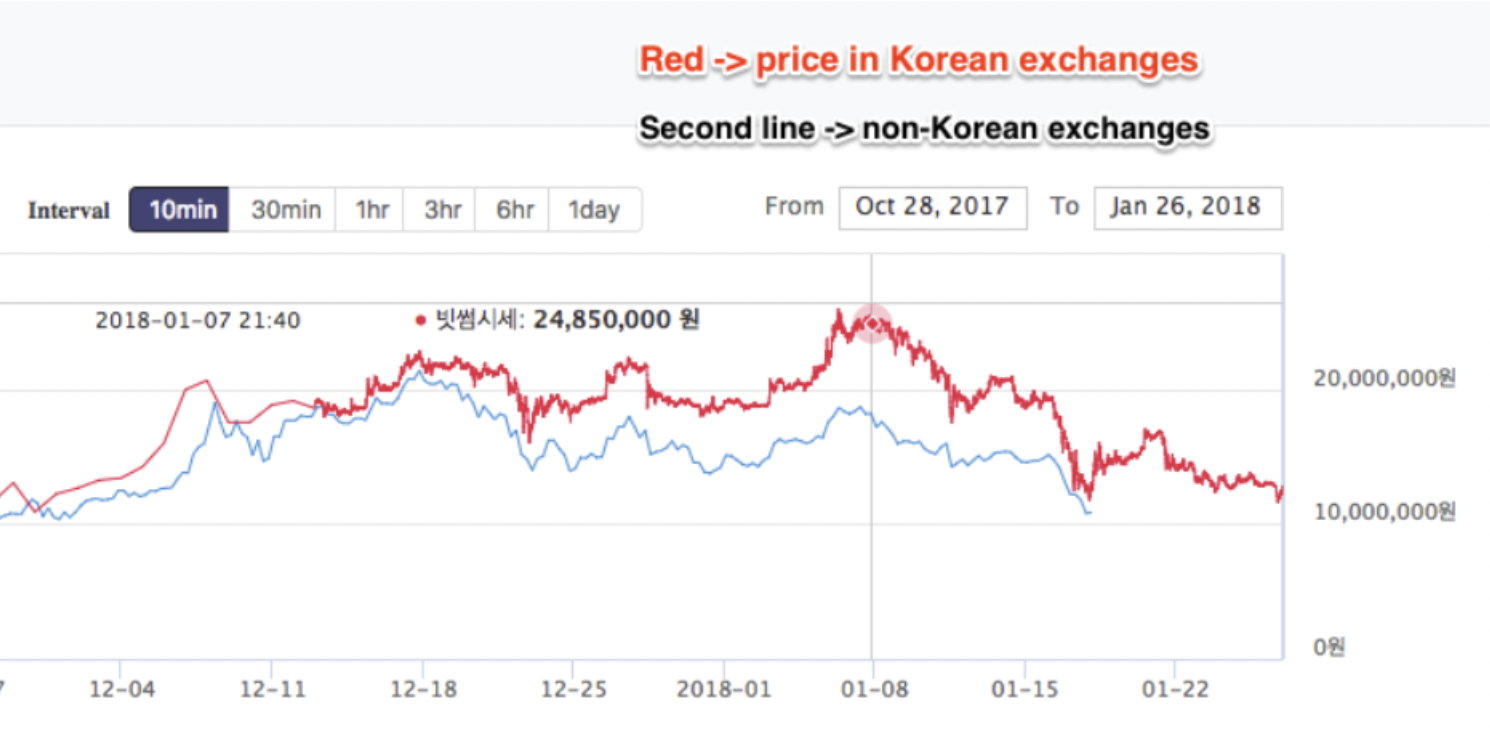 The Kimchi premium in 2017/2018 (source Cornell University)
The premium disappeared in early 2018 when the South Korean government announced it was planning to crack down on cryptocurrency trading. However, the premium has since returned.
The premium is higher during peak phases of bull markets. In the bull market of the spring of 2021, some South Korean banks stopped money transfers to international crypto companies. As a result, the Kimchi premium rose to 18%.
Kimchi premium as an indicator for overbought markets
As mentioned, the size of the Kimchi premium is indicator for how much crypto is overbought. Of course, the Kimchi is just one of the indicators that traders and investors should take into account.