Hedera is an open-source public network that can be used to create DApps. What really makes Hedera unique, is that it isn't built on a conventional blockchain but on their distributed ledger technology called Hashgraph.
What is Hashgraph and how did Hedera come to life?
About the company
Hedera was funded through an ICO (initial coin offering) in 2018 and first launched in 2019. It was founded by Dr. Leemon Baird and Mance Harmon. Both were very experienced in fields like computer science, technology, security, and entrepreneurship prior to starting Hedera. Both are also working at Swirlds Inc., which is a platform for building DApps (decentralized apps).
Hedera is owned by a governing council which includes global companies like Google, Ubisoft, many banks and tech companies. This council makes decisions on for example pricing policies and updates.
An alternative to traditional blockchains
Hedera Hashgraph was built specifically for this project and according to their website is a completely new and unique consensus algorithm. It aims to improve transaction speed and scalability while lowering costs. With hashgraph, users agree on the order in which transactions should be put through.
Due to hashgraph, Hedera is not only fast, but also energy-efficient and even carbon-negative, according to their company website.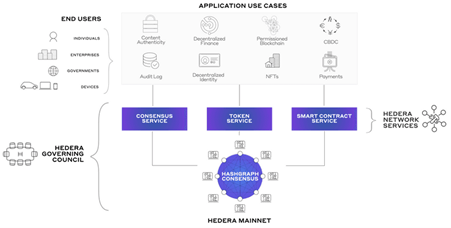 The HBAR token
Hedera's native utility token is called HBAR. The first distribution of HBAR was at it's ICO where early investors could buy the token at the lowest pricing. It holds a dual role within the network: it is used for Hedera services like smart contracts and transactions, and it secures the network through a novel type of proof of stake.
HBR has a maximum total supply of 50 billion. Hedera regularly updates when a new amount of HBAR will be unlocked. It is estimated that in 2025, 17 billion HBAR will be in circulation, which would be 34% of the total supply.