If you have never heard of Floki before, chances are you are not active on Twitter. Floki is a trending memecoin, and yet another crypto based on the Shiba Inu dog breed. With their huge community, Floki is looking to shake off the bad reputation memecoins have and has set an ambitious roadmap for serious use cases.
What is Floki and how did it become this popular?
It all started with a dog
Floki Inu (FLOKI) started a little over a year ago. And in true memecoin fashion, it started with a dog. Elon Musk's dog, to be more precise. When Elon Musk announced that his new family dog, a Shiba Inu, was named Floki, an anonymous developer created the cryptocurrency Floki Inu.
After major flaws were found in the original design of the project, it was revived by a larger group that had declared FLOKI "the people's cryptocurrency". The team's vision is to combine memes with utility, and they plan to create an autonomous and decentralized ecosystem with strategic partnerships.
At that time, both Dogecoin and Shiba Inu were already widely embraced by the crypto community, and both DOGE and SHIB were profiting from "The Elon Musk effect" at this point. Floki was able to ride the Elon Musk wave, too, and gain a following in a short time.
FLOKI has a huge community
In Floki's first year, it was able to score a top 100 position in market cap at their all-time high. Since their all-time high of $0.000348, they have lost quite a lot of value and added multiple decimals to their price. But that does not seem to bother their vocal community, who call themselves the Floki Vikings, that much.
Because what is so impressive about Floki, is their engagement numbers: they were able to consistently start trending hashtags on social media and gone viral more than once. There are over 320.000 Floki Vikings following their official Twitter account.
Their guerilla marketing caused some problems
Besides using social media to their cause, they also have notable strategic or marketing partnerships. Among those are partnerships with:
Formula1 team Alfa Romeo
Chainlink, for securing smart contracts
CryptoCart, where you can buy giftcards
Professional boxer Tyson Fury
Many football clubs, like Bayer 04 Leverkusen, FC Spartak Moskou, SSC Napoli, Fenerbahçe, and FC Twente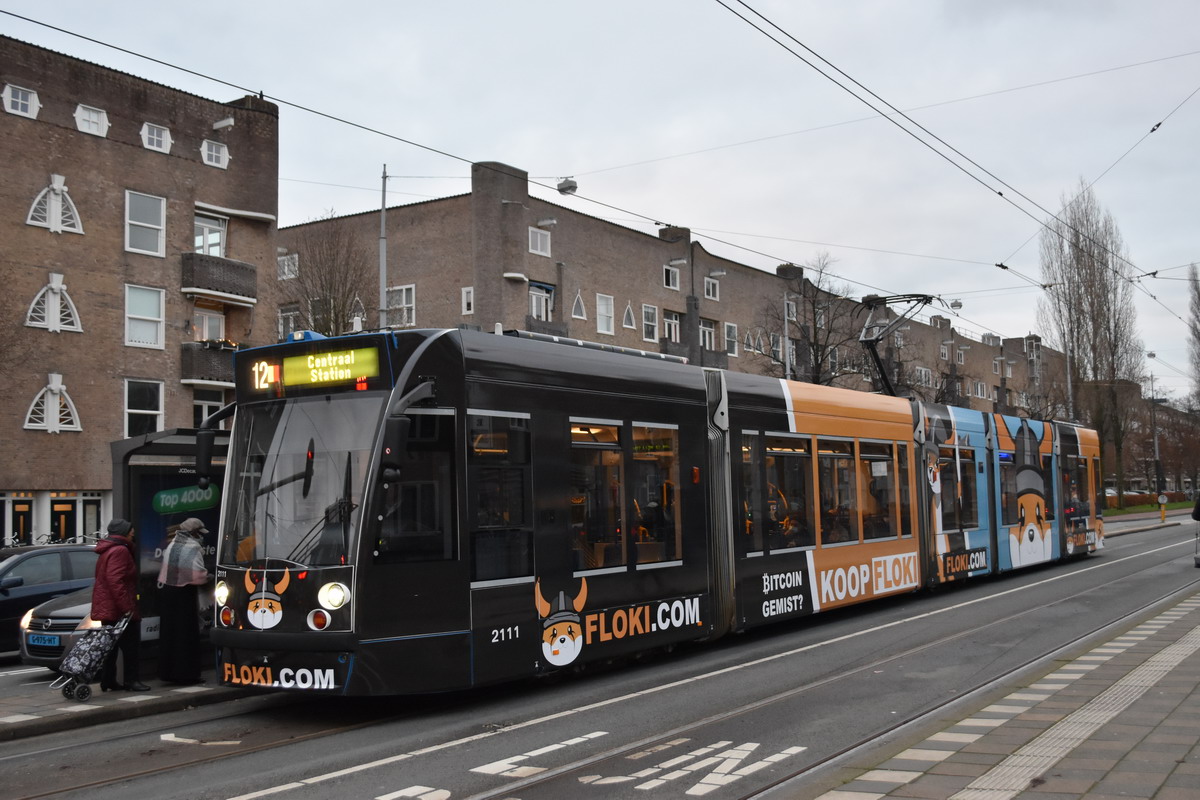 (picture by: René van Lier)
Floki also bought various ads in the London Underground, across 300 London buses and on Amsterdam trams. Floki's uprise did not go unnoticed and has been featured in multiple international newspapers and on many TV channels like CNN and Discovery.
But it also came with drawback: many football clubs were heavily criticized because of their sponsorship. The British Advertising Standard Authority went as far as to ban their London Underground advertising campaign. And in The Netherlands, it sparked a discussion on what is and is not acceptable when advertising specific crypto.
Use-cases and development
Floki's token FLOKI has a maximum supply of 10.000.000.000.000 (10 trillion) coins. It is both an ERC-20 token on Ethereum and a BEP-20 token on Binance Smart Chain. While this cryptocurrency is based on a meme, FLOKI is looking at all kinds of use-cases and has a broad roadmap.
Their main flagship is their NFT gaming metaverse, Valhalla. Their beta launched on their testnet in February and they plan to release their first release-worthy version on the testnet later this year.
Use-cases and offerings Floki is working on, include:
Floki Places: crypto commerce platform for merchandise and NFTs
Floki University: a crypto education platform
DeFi integrations, including staking and farming
The release of their Gemstone NFTs
Floki also has a strong focus on charity projects:
Floki was able to complete a state-of-the-art school in Nigeria
They commissioned the building of schools in Laos, Guatemala, and Ghana
They contributed to initiatives fighting food insecurity­
Floki is a fairly new project, with an ambitious roadmap. Is their valuation based on optimism and belief in that roadmap – or do they rather just profit from the memecoin hype? It remains to be seen if they are able to become a steady player in the crypto game, but their Floki Vikings are sure to cheer them on along the way.