Sending Bitcoin is really not that different from sending any other digital money. You do it when you want to pay someone or, for example, to move your Bitcoin between two of your own wallets.
Behind the scenes, Bitcoin (BTC) works very differently from a regular bank transfer. But for the user, there are quite a few similarities. Both involve the following steps:
You log in to the account where your Bitcoin is.
You choose a Bitcoin address to which you want to transfer your BTC. A name of the recipient is not necessary.
You confirm the transfer.
Several types of accounts
So step 1 is to log into your account. A Bitcoin account is like your checking account. The difference with a checking account is that your Bitcoin is not actually there - it's on the Blockchain. But your account gives you the power to move your BTC.
But who manages that account? Surely not a bank? That depends. There are several forms that such an account or wallet can take.
An online wallet at a crypto broker or exchange (like LiteBit).
A software wallet: an app on your desktop or mobile. For example, Electrum.
A hardware wallet: a kind of dedicated usb stick without access to the internet. For example, Ledger.
A Bitcoin ATM.
In general, it is recommended not to store large amounts of Bitcoin on online wallets or software wallets. A hardware wallet is the safest: it cannot be hacked.
By the way, what kind of account the recipient has does not matter for sending. Compare it to sending an email from a gmail address to a hotmail address. That is also possible.
The transaction
Buy first?
To be able to send Bitcoin, you must of course first own it. Maybe someone sent you Bitcoin, or maybe you bought Bitcoin from LiteBit, for example.
1. Enter the BTC address
After choosing to send, enter the Bitcoin address. It has between 26 and 35 characters. You can usually also enter the address by scanning a QR code. This is often very convenient. Of course you should check that the scan has led to the correct address.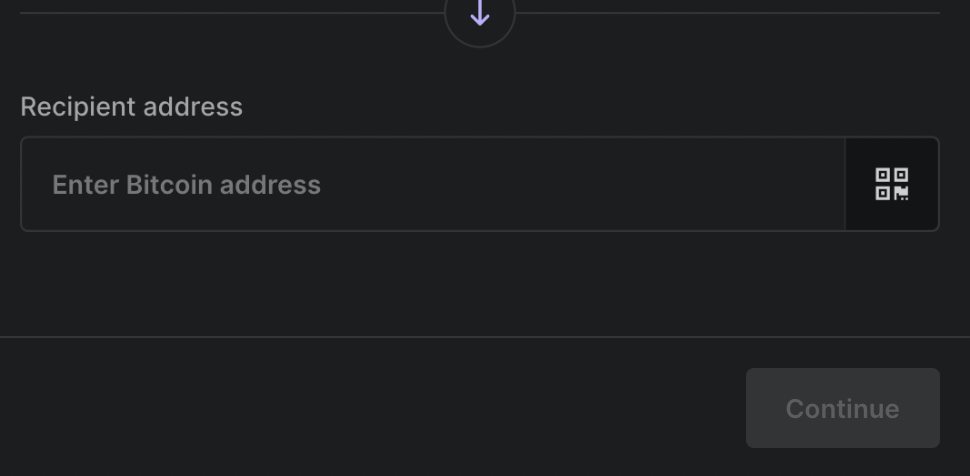 2. Decide on the amount of Bitcoin
Next, determine the amount in Bitcoin. Most applications will also show you the amount in euros or dollars. This is very convenient and avoids a costly mistake of a zero too little or too many.
3. Determine the amount of the transaction fees
Some wallets give you the option to determine the amount of the transaction costs. The unit for this is satoshi's (sats) per byte. A transaction has about 250 bytes. The transaction fee does not depend on the amount of money you send. You can send an amount of 100 million euros for a few dimes in transaction fees. However, higher transaction costs increase the chance that your transaction will not remain in the queue (the mempool) for long.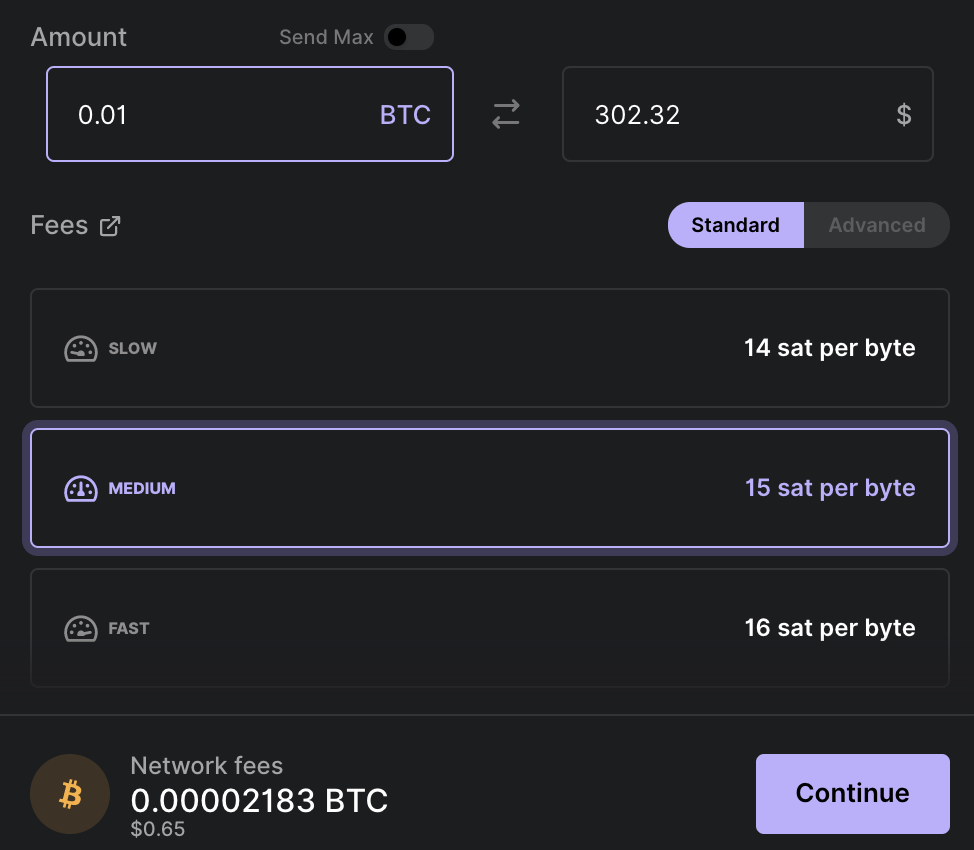 4. Optional: speed up transaction by RBF
Replace By Fee (RBF) is an option you can use in some apps. This gives you the opportunity to resend the transaction, should it remain in the queue for a long time - but with a higher transaction fee. The first transaction will then be removed from the queue and the new one is likely to go through faster.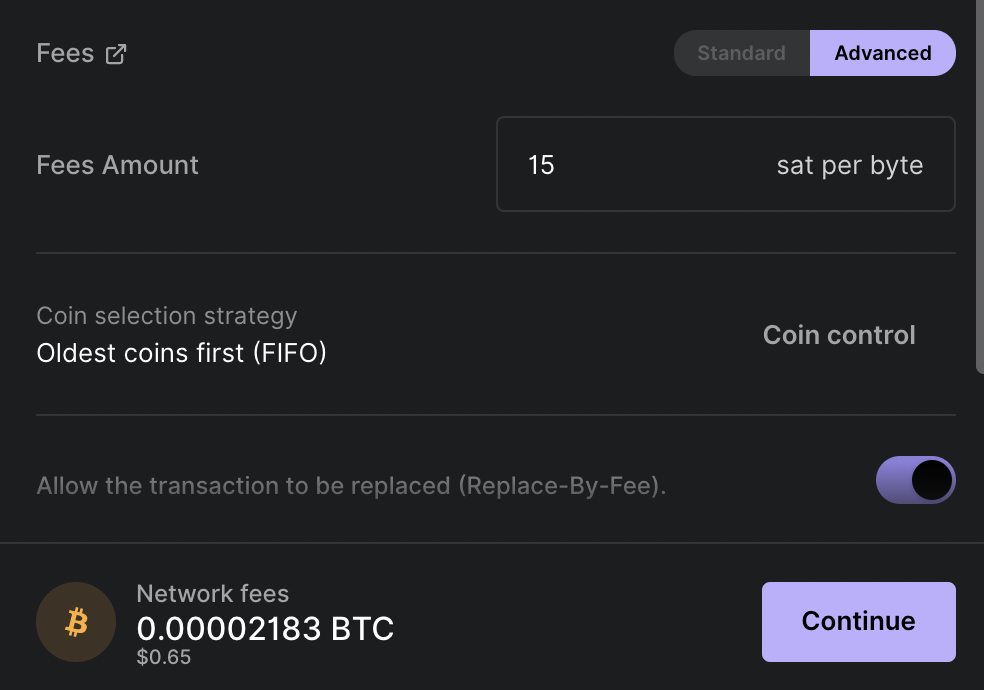 5. Confirm
Depending on the type of wallet, a confirmation will look different. If you have a hardware wallet, you check and confirm on the hardware wallet itself. If you send BTC from an exchange or broker, you will confirm with an authenticator app and/or email.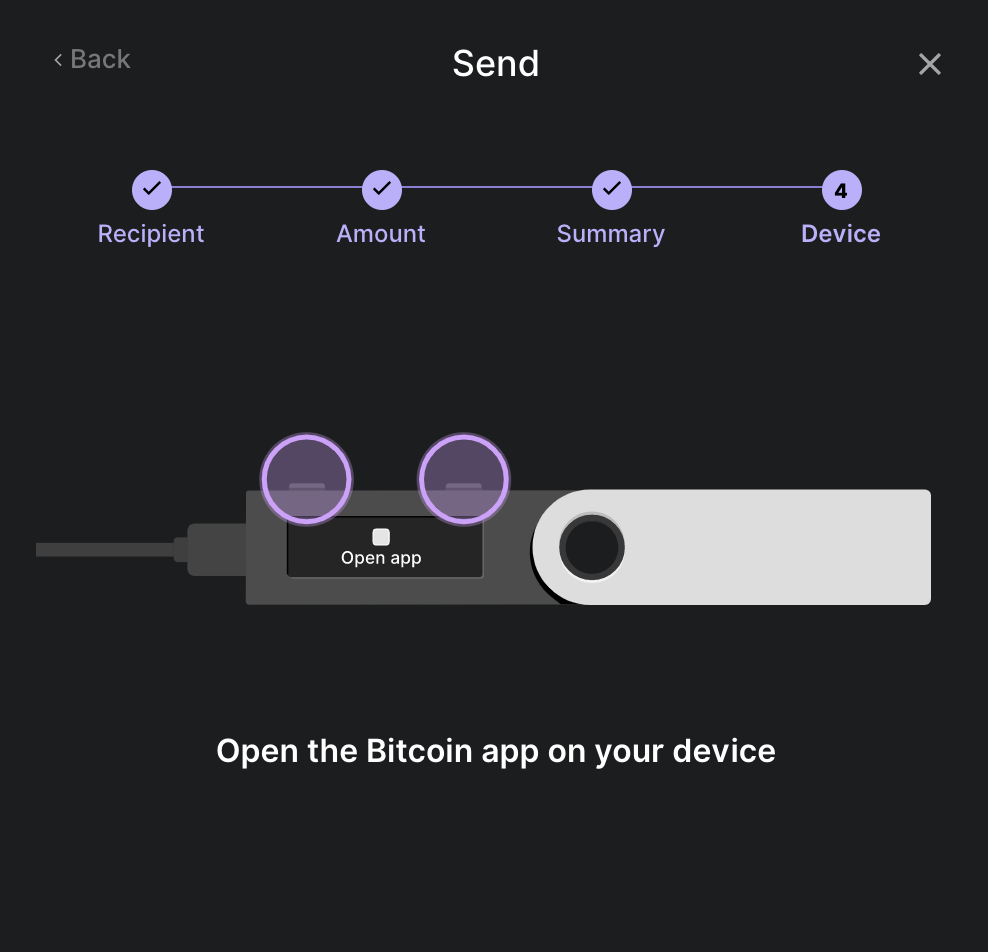 The above approval screen is from a hardware wallet
6. Wait
Tranquilo... it's Bitcoin. Never invented to enable super-fast payments - but super reliable ones for that matter. It can take half an hour or an hour for your transaction to be buried under enough new blocks to be considered final and be shown at the receiver's end.
Depending on how busy the queue is, it can take a while. But rest assured that your funds are never at risk of permanent loss when pending. A transaction will either get confirmed eventually, or forgotten by nodes after a certain period of time and you'll regain access to them in your wallet. In unfortunate cases it can take 24 hours.
Other ways of sending
The whole story above is about so-called on-chain transactions. That is, the Bitcoin you send actually goes on the blockchain. But there are other ways of sending Bitcoin.
The Lightning Network. A kind of "second layer" on top of Bitcoin that works with payment channels. Payments take only a few seconds.
Sending within an exchange. Some exchanges offer the ability to send a transaction to another user of the same exchange based on their email address. The transfer then does not go across the blockchain but stays within the exchange's centralized database.
So while these forms of payment are fundamentally different, on the surface they do look similar.
A transaction is always a matter of entering a BTC address and amount and confirming your identity through an authenticator app or email. Easy peasy!