Phishing is any form of contact to extract confidential information. This is done via social media, fake emails, counterfeit websites and by telephone. Fraudsters 'fish' for information from potential victims by sending emails, sending messages on social media, sending text messages to you cellphone or calling you claiming some form of urgency. The goal is to gain access to digital or physical property. If you enter your login details in a fake site or provide them with this information on a call or message, the scammers can use it to access the details to enter on your account and clear it without you even knowing.
How to recognize phishing?
1. Check the sender's email
The scammer can easily change the sender's name to make it look like the email came from LiteBit. Scammers often use an unclear email address that contains our name. Therefore, always check the full e-mail address. E-mails from LiteBit are sent from support@litebit.eu or noreply@litebit.eu without any special characters or numbers.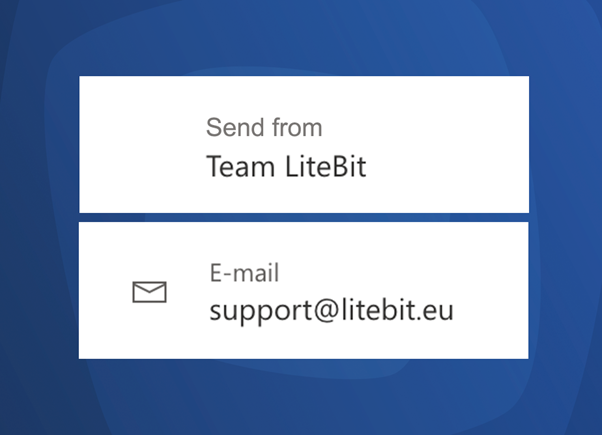 2. Check the URL links
Read the e-mail carefully. If you are asked to click on a link, always check in the https bar whether you are visiting the correct website. If you as asked to login into your LiteBit account, check if the URL is https://www.litebit.eu. It is always best is to save the login page of our website in your favorites and to open it yourself. Just to be sure!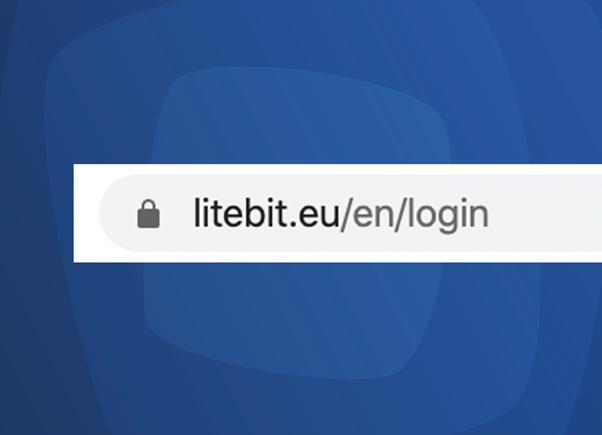 3. Check the design
The content of the phishing e-mail is often copied from or reproduced based on legitimate e-mails. Some phishing mails have a very high quality, which makes them almost indistinguishable from legitimate e-mails. Be aware of spelling mistakes, wrong language or old logos. These are all indicators of phishing e-mails.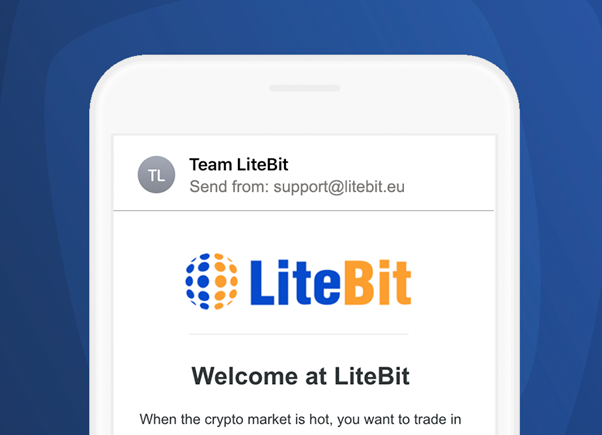 How do I check if my e-mail address is known by phishers?
Online criminals get very creative and try to get your data from different websites and platforms where you have logged in recently. An easy tool to find out whether your data isn't public is by checking www.haveibeenpwned.com – this way you can check for yourself and see whether you are at a higher risk for these kind of online criminal activities.
How do I recognize a phishing on social media?
We made a blog dedicated to this topic. To read more about phishing on social media, click here.
What should I do if I have been scammed?
Have you been scammed by a scammer or online criminal? Unfortunately, we can not ensure that you get the money back. We also do not play a role in mediation in this. Our advice is that you report the internet fraud to the police. To reset your account securely, follow these steps:
Contact our fraud team by sending an e-mail to fraud@litebit.eu.
Change the password of the affected accounts
Add a two-step verification security.
Contact your local authorities.
To learn more go to: I have been scammed, what should I do?
What can I do to prevent phishing?
You can prevent phishing with the following tips:
1. Secure yourself
Being the target of phishing activity cannot always be prevented. But installing a good virus scanner and setting up spam boxes (unwanted email boxes) can filter most phishing emails.
2. Check the sender
Is the name of the sender an official business address or page? Or does it just look like one? Are you addressed with your own name? Or just with 'Dear'? Or not at all? The more impersonal the email or message, the greater the chance that you are dealing with phishing.
3. Check the link
Does the link you have to click start with https://www.litebit.eu/ ? Is LiteBit spelled differently, or does the link not start as described above? Then there is a chance that this is not the official LiteBit website. The first part of the link shows where the link takes you.
4. When in doubt, do not provide information
Do you not trust the situation? Don't click on any links in the email and don't submit your details. In this case, it is best to contact our Customer Support. They can confirm whether it is a phishing e-mail or not.