All-time high
Anticipating the launch of the first U.S.A. based Bitcoin exchange-traded fund (ETF) on October 19th, Bitcoin saw a huge rally in the days before. The ProShares Bitcoin Strategy ETF, with ticker BITO, is now available on the New York Stock Exchange, by far the largest stock exchange by market cap in the world. The day after the official launch, the BTC price continued its rally and reached its new all-time high of roughly €56.000 ($66.000), surpassing last May's high. Bitcoin CME futures volume also reached an all-time high on October 20th: $7.66B.
The second Bitcoin ETF, the Valkyrie Bitcoin Strategy fund (ticker BTF) launched just days after and the third one, by VanEck, is rumoured to start trading as soon as this Monday. The ProShares Bitcoin Strategy ETF surpassed $1.1B in assets under management in just the first two days of trading, outperforming an 18-year-old record set by the Gold ETF. Does this mean the digital gold has officially "beaten" the physical gold?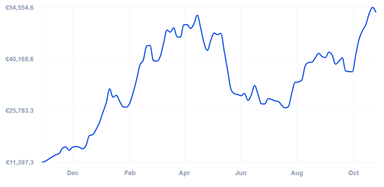 Bitcoin balance
According to data from Glassnode, the balance of Bitcoin on exchanges (in other words: how many Bitcoin exchanges hold) is at its lowest point in 3 years. This sounds like Bitcoin is looking a bit scarce (on these exchanges). This scarcity may initiate a supply problem of Bitcoin for exchanges: when the demand exceeds the supply, this may (and most likely, will) drive the BTC price up even further.