At LiteBit we are continuously improving our platform. We want to give everyone a perfect trading experience without any frustration. Being transparent is also part of that! That is why we have recently made some changes to our website and app. These changes provide you more information about the prices and provides you with more clarity. Are you curious? Read more below.
This is what has changed:
1. You will see a summary when completing your order. Here you can see what the Service and Administration costs are for your trade. These costs, together with the market price, form the total price.
Market price = The average price on the markets LiteBit is trading at.
Service fee = is a fee you pay to use LiteBit. All costs which are incurred in exchanging your euro for crypto is taken into consideration. This is calculated as a percentage of the total order amount. The percentage differs per coin. More information can be found here.
2. Since the prices of crypto change very quickly, we show a timer that counts down until the moment the offered price is valid. The timer will count down from 60 to 0 and will start when the original price is no longer valid. The timer is renewed every 60 seconds. When the timer restarts, the current price is displayed.
3. All prices shown in the app in both the "Market" and "Portfolio" section, are market prices. This means that the price is equal to the current market. Earlier we showed the buy/sell prices here. They are lower or higher than the market price.
4. When you complete your order, the market price for which you bought or sold the crypto is shown. You can find this information in the order history. Super handy! Previously, you could only see the number of crypto purchased instead of the price.
5. There are also several coins with a high spread. Spread is the difference between buying and selling prices on the market. When you select a coin that has a high spread, you will receive a warning.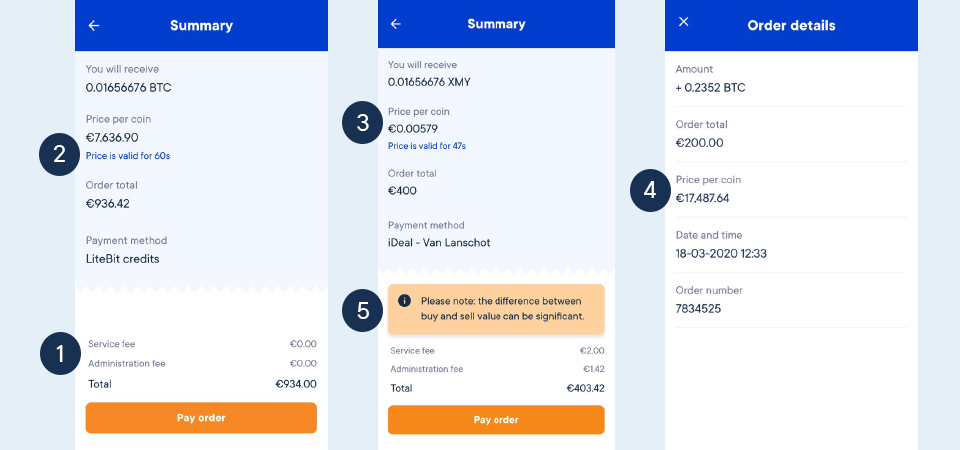 With these adjustments we hope to make trading even easier and clearer for you. We are also working hard on several projects that will make trading at LiteBit even more interesting for you. We hope to share more information about this with you soon!
Any questions on this topic, please read our FAQ or contact Customer Support.